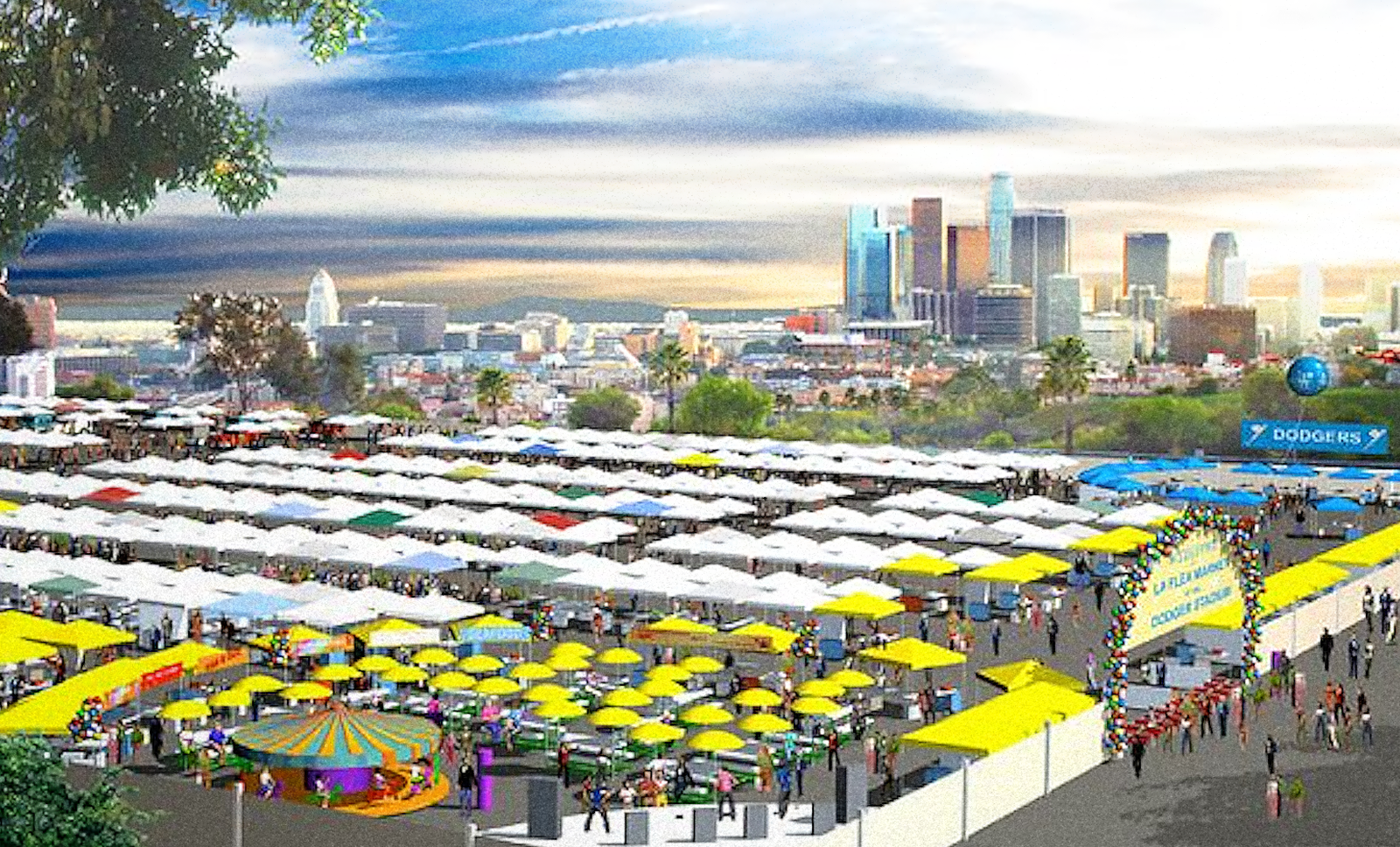 L.A. Flea Market
Cultivating a Media Frenzy Surrounding a Brand New Business Venture
BACKGROUND
The new L.A. Flea Market, brainchild of flea market veteran Phillip Dane, aims to provide an unparalleled bargain-hunting experience. The market features a large selection of well-screened vendors of new, vintage and antiques merchandise, including designer clothing, collectables, furniture, art and home décor. With its centrally located, iconic venue of Dodger Stadium and unique services provided, the L.A. Flea Market is positioned to become the best flea market in the Los Angeles area.
To launch the market, AFC emphasized the unique aspects of the L.A. Flea Market in order to set it apart from other open air markets. A V.I.P option provided access to a shaded lounge area with complimentary beverages, misting fans, and executive toilets, as well as a carry-out service for purchased items. At the mobile food court, an innovative alternative to over-priced, mediocre food stands, shoppers enjoyed gourmet grub courtesy of L.A.'s beloved food trucks including the infamous LudoBites truck. Adjacent to the food court was live entertainment in the form of local up-and-coming bands, and kids had fun in the special play area. A special community section garnered support for non-profit organizations and the event was staffed by Homeboy Industries. The Grand Opening featured a "Hollywood Yard Sale," hosted by Rick Dees, which auctioned off celebrity donations in support of the Salvation Army.
GOAL
To establish the L.A. Flea Market as an entertaining, dynamic shopping opportunity and differentiate it from the numerous other open-air markets in the Los Angeles area. Generate as much coverage as possible and build public awareness in order to attract the highest number of attendees.
KEY STRATEGIES
To seek widespread coverage in print, online and broadcast media. Build "buzz" among Angeleno consumers by distributing frequent press releases and reaching out to popular fashion magazines, lifestyle publications, daily newspapers, trade publications, and high-traffic blogs that provide relevant and up-to-date information on special events. Secure event and calendar listings. Target high-profile food writers and bloggers. Arrange pre-opening interviews with the founder and Rick Dees to generate excitement for Grand Opening. Distribute follow-up release to announce success of the market and maintain dialogue with media to secure post-coverage and promote future market dates.
KEY RESULTS
Amount of coverage exceeded expectations. The AFC campaign secured pre- and post-coverage from the Los Angeles Times on eight different occasions, including stories in the Food, Home & Garden, and Style sections, and twice in their alternative weekly, BRAND X. Sunset Magazine chose the market as an "Editor's Pick," the L.A. Weekly ran event listings, a post on their popular food blog Squid Ink and chose it as "Best New Flea Market" for their "Best of L.A." issue. AFC arranged for an interview with Rick Dees to promote the event on KCAL News and crews covered the event resulting in coverage on several network affiliates. KABC-AM and KPPC-FM radio both ran reoccurring stories. Other print coverage included 944 Los Angeles, the Daily News, Campus Circle, the Orange County Register, Downtown News and La Opinion. The market's hype spread feverishly throughout the web, appearing on the Zagat Guide, CitySearch, About.com, FlavorPill, DailyCandy, Racked L.A., Grub Street L.A., ABC online, the Huffington Post, the KPPC radio network blog, Food She Thought, and LA.com, among others. Result: The Grand Opening was hugely successful, attracting over 12,000 attendees.