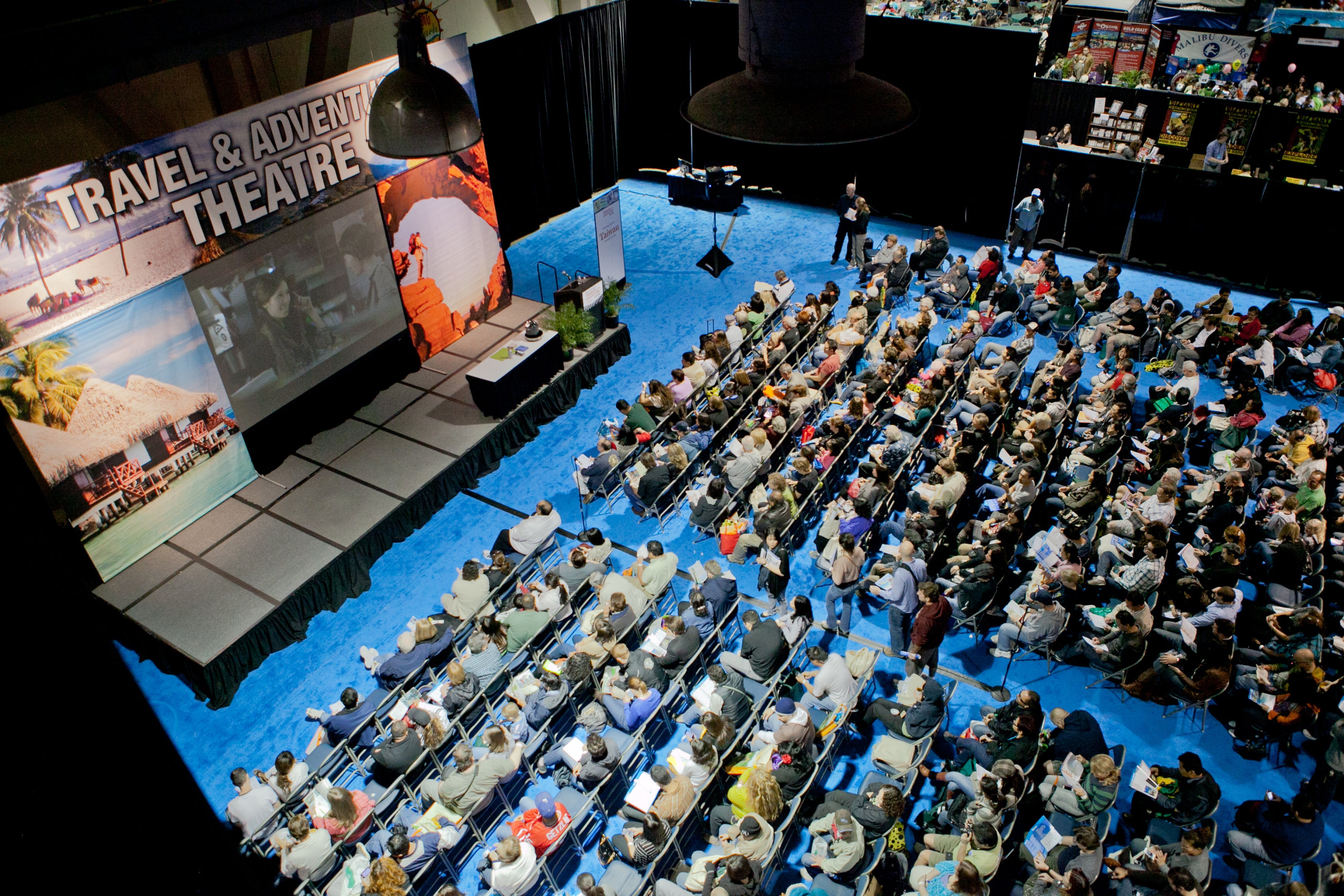 L.A. Times Travel & Adventure Show
Generating far-reaching media coverage and increasing attendance
BACKGROUND
For the best travel advice and destination ideas all under one roof, the L.A. Times Travel & Adventure Show, the largest consumer travel trade expo in the U.S., caters to arm-chair travelers and globe-trotting adventurers alike. The show features informative seminars by award-winning travel experts, over 400 exhibitors showcasing the most alluring destinations and activities, exclusive trip giveaways, and exciting hands-on activities.
The AFC campaign focused on the show's most unique aspects that provide for an unbeatable consumer experience. The educational portion includes seminars by world-famous travel journalists and TV personalities Rick Steves, Arthur Frommer, Andrew McCarthy, Samantha Brown, and others. For a glimpse into the adventures that travels await, attendees can take part in fun in-house activities like scuba diving, a zip line, steer-roping, and rock-climbing.
GOAL
To secure widespread coverage in print, online and broadcast media. Establish the L.A. Times Travel & Adventure Show as Southern California's premier travel expo and generate public awareness to maximize attendance.
KEY STRATEGIES
Build online "buzz" by teaming-up with the Los Angeles-based online travel writing community and gathering influential bloggers together for a media preview day.
Distribute multiple press releases to maintain interest among the media. Pitch angles specific to the readership of various publications.
Secure calendar listings on L.A. websites, daily papers and community weeklies to spread the word.
Target morning news shows to highlight the expo's outstanding visuals, such as the rock climbing wall and scuba pool.
Secure radio interviews for the show's talent with high-profile radio personalities.
KEY RESULTS
AFC attained extensive TV coverage, including: four separate news segments on the press preview day with Fox 11 News to showcase the hands-on activities; two morning segments with KTLA also featuring activities; an interview with L.A. Times writer Chris Reynolds on KCAL 9 News; KEYT'S Travel Minute was devoted to the Travel Show and a segment on KEYT interviewing the Ventura Visitors and Convention Bureau regarding their participation in the Show.
Radio shows also provided in-depth coverage, including multiple hits on KFWB (CBS affiliate): Anthony Dias' Blue Lifestyle Minute, Money 101 and Rudy Maxa. The expo was also featured on "The News Bender" on KFI, Johnny Jet, Peter Greenberg Worldwide, Around the World Radio, Armed Forces Radio, "Traveling with Francoise" and three segments on KKZZ Ventura.
The expo appeared all over the internet, especially in the "blogosphere," including Gallivanting, the Vacation Gals, Travels with Two, Drink Eat Travel, Huffington Post, and the Southern California Meetings + Events blog. A listing ran in Los Angeles Magazine's The Guide online, as well as in NBC Los Angeles, Fishbowl LA, Los Angeles.com, and Dig Lounge. The popular L.A. news and event website LAist ran a photographed article. In addition to numerous calendar listings, print media highlights included Pasadena Magazine, which ran an extended listing with a captioned photo and an article in L.A. Parent.